Find the Best Advocates in Chennai for Unlawful Activities (Prevention) Act – UAPA Cases
ADVOCATES IN CHENNAI FOR UNLAWFUL ACTIVITIES (PREVENTION) ACT – UAPA
In the first place, Unlawful Activities (Prevention) Act is UAPA in short. In other words, It is the first black law introduced in India in 1967. Of course, UAPA gives power to state to curtail following rights of citizens. In fact, It is for citizens who act or deemed to against national interest.
Freedom of Expression & Speech to be sure.
Right to peaceful assemble and Right to assemble without arms for one thing.
Right to form unions or associations for this reason.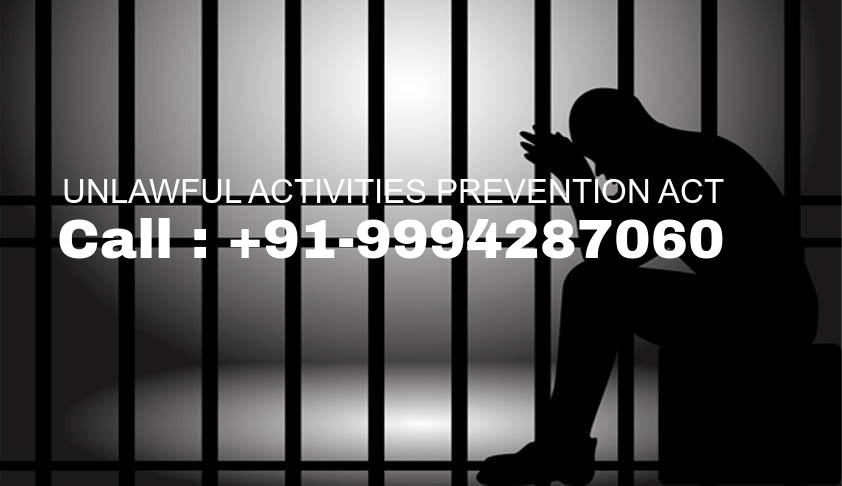 The main aim of UAPA is indeed to prevent unlawful activities associations in India. Chiefly, It gives powers to state to deal with activities aimed against India's integrity and sovereignty. Find a leading criminal advocates to Solve charges under Unlawful Activities (Prevention) act by all means. Advocate Saravvanan Rajendran law associates defend with attention to cases of UAPA in Chennai.
Few examples of UAPA
1. In 2011, Ms. Jyoti Babasaheb Chorge a 19 year old woman got arrested in Pune. She was being detained notably for having books of Maoist literature. In the contrast, More sections were being heaped on her under UAPA.
2. In 2017, Mr.G.N. sai baba is a wheelchair bound teacher to point out. He has 90 per cent physical disability. He got arrested along with five others. They got convicted in Maharashtra under the UAPA. The charge was allegedly having links with Maoist groups. Saibaba's lawyer said there was no evidence.
The UAPA does not arrest citizens for doing a crime. Meanwhile, It arrests citizens to stop them from doing a crime. Moreover, UAPA gives power to the state to suppress one's fundamental rights in the name of national security.
UAPA Powers / UAPA Lawyers in Chennai
UAPA gives the police overall unconstitutional powers. Hence, Police can do searching, seizing and arresting without warrants. The bail probability is also low under UAPA. There is also provision to hold for 180 days without filing a charge sheet by the police. Six months of no accountability gives way to torture and inhumane practices in the long run.
UAPA has powers for a least of five year imprisonment in the final analysis. It can extend to life imprisonment for arranging terrorist camps for the most part. And also for recruiting anyone for terrorist act. With this in mind, One must find UAPA Lawyers in Chennai to solve these issues.
UAPA Five year imprisonment / Contact UAPA lawyers in Chennai
conspiring or attempting to commit,
or advocating abetting,
advising or inciting or
aiding the terrorist act with knowledge or
Any act preparatory to a terrorist act.
Contact UAPA Lawyers in Chennai for bail and trial.
What is unlawful activity under UAPA ?
It is any action of a person that
Disclaims questions, disrupts
Intends to disrupt the sovereignty and territorial integrity of India or causes
Intends to cause disaffection against India
Criminalize association and ideology of UAPA
UAPA can criminalize association and ideology in essence. As a result, They can declare an organization unlawful or terrorist and can criminalize them.
First, custody of books or literature of such association
Second, Upholding an philosophy of such association . There need not be any violent act
Thirds, Membership with such an association
Fourth, Attending meetings of such groups
Provisions of UAPA – Unlawful Activities (Prevention) Act
It gives power to the govt to ban 'unlawful and terrorist associations'.
Arrest, Search and seize without warrant
Imprisonment without charge sheet up to 180 days. police custody up to 30 days.
Anticipatory bail is out of the question
Assumption of guilt for terrorist activity without proving it in court.
No sunset clause
No provisions for mandatory periodic review.
Top Criminal advocates in Chennai for Unlawful Activities (Prevention) Act charges
Advocate Saravvanan Rajendran Law associate's Criminal Advocates are truly a team of Top Unlawful Activities (Prevention) act lawyers on the positive side. In fact, Our Criminal advocates in Chennai can handle your case with ease and expertise.

At this point, Our Criminal Lawyers will advice you about your rights, obligations and legal process. In any case, if  you get booked under UAPA, Contact our Senior Criminal advocates and call us to clarify the inquiries today.
Prevention of Terrorism Act (POTA)